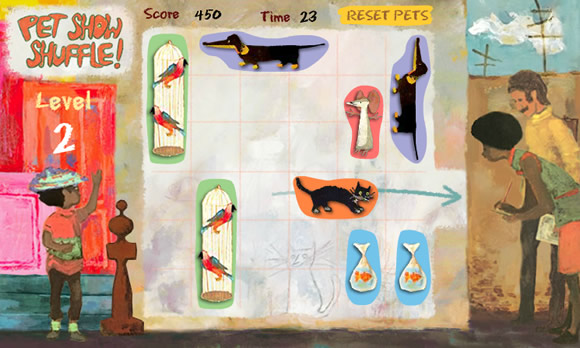 The Ezra Jack Keats Foundation recently released an online game I designed. Working from the book "
Pet Show!
" we created a colorful sliding tile puzzle. The story features Archie, a young boy looking for his cat to enter the pet show. The
game
showcases many of the animals in the contest as sliding tiles, and the objective is to move the cat off the board by shuffling the other pets around.
Play the game on the EJ Keats Foundation website.
The book was released in 1972 and it was fun using Keats artwork to build the
game
. There's a distinctly retro color cast to the imagery, with rich ochres and deep browns. The mustache and turtleneck of one judge and the afro and mini skirt of the other give the book a nostalgic feel.
Play all my games for the Ezra Jack Keats Foundation.