How much do we really see when we look? In a sea of tiny gadgets we sometimes miss the wonders that exist beyond the end of our arms. The practice of drawing expands awareness and focus while developing skills needed to represent our complex world.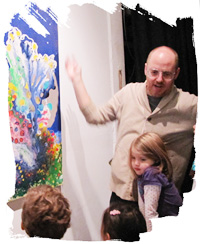 Jay Boucher is a visual artist and interactive designer working from a studio in Hoboken, NJ. He specializes in drawing, illustration, web design and animation to create entertaining experiences on-line. Jay has a life-long passion for creating pictures from life and from the imagination, with pen, pencil, paint and pixels. He teaches drawing for children in the NYC area and has done artist residencies for HOLA Charter School in Hoboken. He has developed art, cartooning and computer classes for children and adults through Fairfax Co. Public Schools in VA, New York Cares in NYC and Young Rembrandts in NJ.
Jay spent much of the 2000′s as Sr. Designer for MTV.com, designing sites for MTV2 and MTV Tr3s. He has worked for Hearst Digital and Condé Nast and freelance clients include Mercer MMC and Westwood One Radio Network. He currently creates games and animations for the foundation of renowned illustrator Ezra Jack Keats and exhibits work throughout the northern NJ area.
Jay holds a BFA in Illustration from Virginia Commonwealth University and an MFA in Photography & Related Media from School of Visual Arts, NYC. View his portfolio at jayboucher.com. He posts drawings on Flickr.
Email Jay at hobokenpudding@gmail.com.