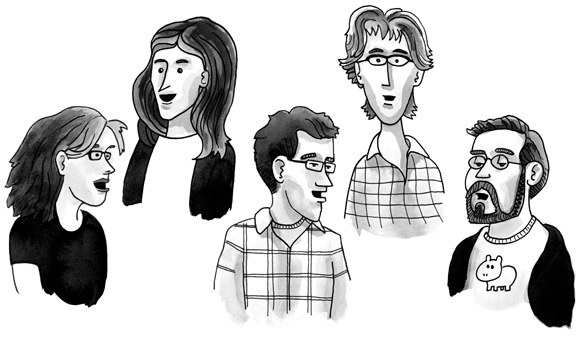 Last week I went to a panel about
careers in digital gaming
hosted by the Center for Communication. It was a great chance to hear about the career trajectories of a number of professionals in the industry. Of course I was compelled to sketch all of the panelists while they were speaking and later I applied ink wash to refine the pictures and add depth.
Click for a larger image
. The speakers were Wade Tinney, CEO of
Large Animal
Games; Megan Gaiser, Chief Creative Strategy Officer of
Her Interactive
; Jessica Rovello, President and Co-Founder of
Arkadium
; and Ben Johnson, Game Developer. The panel was moderated by Jill Duffy, Tech Writer for
PC Magazine
and hosted by
Center for Communication
. I've written more about
drawing people in public
, and have a section of my portfolio dedicated to my
portrait images
.