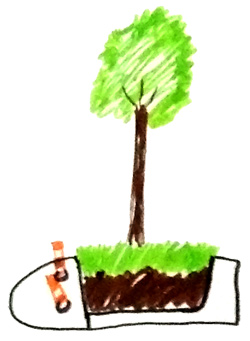 Working as an artist can be a lonely existence. It's difficult to gauge if things are really working when you're isolated from your audience. The same can be true when teaching young children; it's hard to tell if your lessons are being comprehended when your students have a limited capacity for expression. But occasionally something happens to make you realize that things really are sinking in and that you've made a difference in someone's understanding of the world.
All Work While They Play
Thursday night last week I got contacted by a regular client to do an illustration related to the upcoming Academy Awards… which were on Sunday. It sounded like a fun project, even if it meant I'd have to come into the studio on Saturday to animate and post. It was my weekend with the kids and they were planning on practicing their talent show routine at my studio anyway. I figured I could work while they hula hooped. My studio is a room off of a larger photo studio and art gallery and if it's empty when my daughters visit I let them practice cart-wheels and spins in the front space. Saturday morning I threaded the speakers from my computer out to the gallery so they could choreograph to the music. The girls' friends came by to dance together while I immersed myself into my computer, occasionally interrupted by the demand to click the replay button for Lady Gaga's "Applause" video on YouTube.
Invasion of the Lepre-coners
About an hour into practice the photo studio started to fill up with green people. For the uninitiated, Hoboken is host to an annual pub crawl called Lepre-con. The event was originally part of the city's St. Patrick's parade but had gotten so out of hand that the 25 year old parade
was cancelled a couple of years ago
. The city hoped to reduce the amount of urine puddles on street corners and fights in bar entrances but the revelers continued their
annual trek
to Washington street, now without the imprimatur of an organized, sanctioned event. Unbeknownst to me, the studio manager was setting up the front space as a staging area for his friends to mingle before embarking on an epic quest to kill the kegs of this mile square city. So much our dance practice. I collected my kids into my room and gave them paper and markers to play with while I finished my work. I stuck my head into my computer and became oblivious to the world around me. I emerged about an hour later with a fun, animated gif and my kids struggling for my attention. We left and enjoyed the rest of the weekend together. It wasn't until I returned to my studio on Monday morning that I realized what they had been working on while I was embedded in Adobe World. There, on my art table, was a scribbly copy of one of my drawings.
A Lone Sapling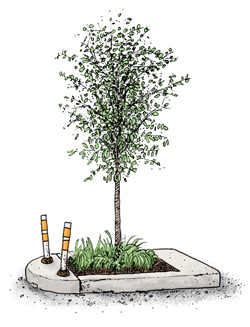 The picture was of a tree I saw on a traffic island in Manhattan. In the past few years the city has added numerous bike lanes along its streets and avenues, separating bicycles from automobiles with concrete lane dividers. To soften the look and announce their "green" intentions, NYC had planted tiny trees on these islands. In isolation they looked to me like stranded cast-aways floating in a sea of sticky tar and screeching metal. They seemed to be growing in defiance of the concrete jungle, but were also a sad sign of the complete control humans have over our environment. They were an iconic manifestation of "Smart Growth." Last fall I sat on a bench on the edge of Central Park to draw one of these stalwart saplings. I colored the picture later on my computer and printed a copy for display. I've posted the
picture on Society 6
but haven't sold any reproductions. It was yet another image that I felt was a meaningful interpretation of our world and that I'd tossed out to the internet sea like a message-in-a-bottle. Would it ever actually reach anyone?
Imitation is the Sincerest Form of Flattery
Now I saw that one of my daughters had been copying the picture while I sat next to her with blinders on, cranking out graphics and not paying attention to what she was doing. She had created an abstracted interpretation of the forms and colors of my simplistic drawing and took joy in brightening up my desolate little tree. The cliche that "imitation is the sincerest form of flattery" certainly resonated in me and I felt proud to have inspired her.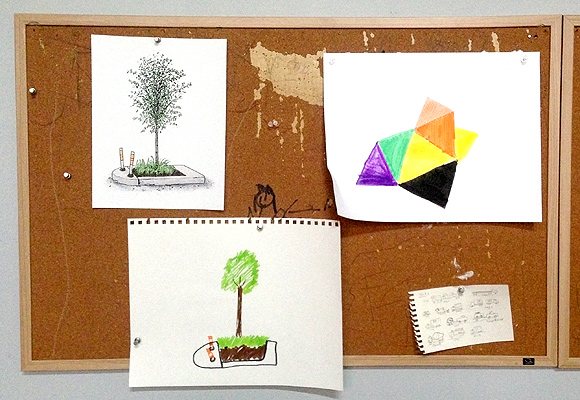 Later I was talking with a friend of mine and we lamented the plight of being an artist creating in isolation, struggling to corral our mental and physical energies into work that we hope will have a meaningful life of its own. Commissioned work was different; cash payment is the token of appreciation, an immediate sign of validation for your labor. But the intangible ends of art creation mean that it's often difficult to see where seeds have taken root. You can hang artwork in a show but do other people get it? Do they care? How much value is there in a Facebook "like"? A retweet? It's hard to tell.
Hidden Little Gifts
What my daughter's picture taught me, though, is that sometimes you can make an impact on someone without even realizing it. They can be right in front of you, enjoying your work in their own quiet way and if you're not careful you'll miss it. Sometimes you just have to trust that your labor is not in vain and that, even if it only reaches a small audience, it can be a source of enjoyment and meaning for others.