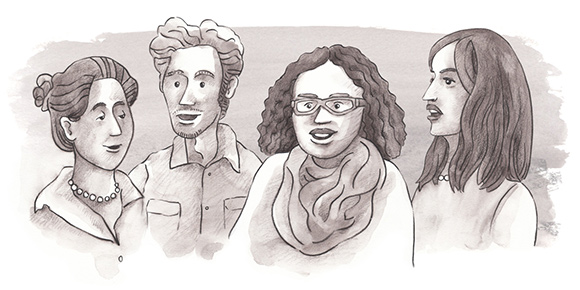 Late last week I attended a book launch panel discussion put together by the
Game Based Learning
Meet Up group in NYC. The book is "
Learning, Education and Gaming
" and the panelists were some of the authors of the book: Elena Bertozzi, Ethan Hein, Gabriela Richard and moderator Karen Schrier. It was a great talk covering many different aspects of how to bring games into teaching environments. I did pencil sketches during the talk, then redrew them at home with sepia Derwent Inktense pencils. Thet are water soluble ink pencils so I then applied water for a soft effect. It's a little different than straight ink wash; there's a subtle pencil texture and the water softens the outlines. This drawing is warm up for a larger portrait project I'm doing for a local magazine of restaurant owners in Jersey City .