In celebration of the 150th anniversary of the London Underground, artist Mark Wallinger was commissioned to create artwork for all 270 stations of the Tube. He developed a series of enamel painted labyrinths, bringing together many classic circular labyrinths into a common visual language of solid black and white, with a red "X" as a start and end point.
This video contains an interview with Wallinger
as well as a glimpse of the production process.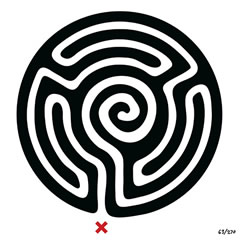 A labyrinth differes from a maze in that there are no dead ends and there is just one way in and one way out. I have been exploring the form,
drawing both labyrinths and mazes
in sketchbooks over the past couple years. It is a relaxing meditative practice, and encourages seeing of the entire page as an overall space, with the path traveling across every inch of the page. It's encouraging seeing this often disregarded art form taking center stage in a public space.