This post documents the creation of a watercolor painting based on a double trailer I saw wheeling naked Ford Escape taxis through Hoboken. This will be the largest painting to date in my
Trucks series
. Updates are in reverse chronological order.
June 14, 2013
I've got most of the vector art in place, including the taxis.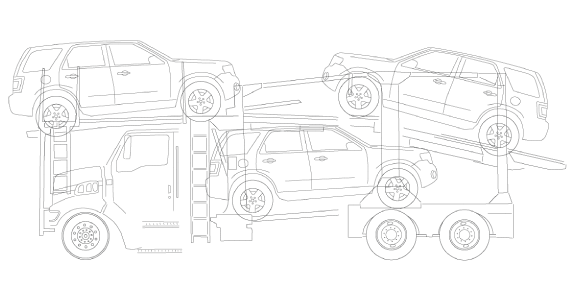 June 11, 2013
I imported my stitched photos intro Illustrator and started working on the vector design.

May 9th, 2013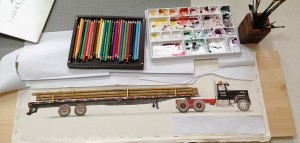 I'm glad to finally get back to working on this picture. I wanted to execute a couple smaller watercolor paintings before starting on the double trailer. Last December I finished the 14" Dump truck and I'm putting finishing touches on the 28" Pipe trailer pictured here. Both are pen, watercolor and colored pencil on stretched 140lb Arches paper. I created engineering drawings of both trucks in Illustrator and printed them out at 10% black, giving me a skeleton to draw and paint atop. The gif below shows both my vector drawing and my final painting.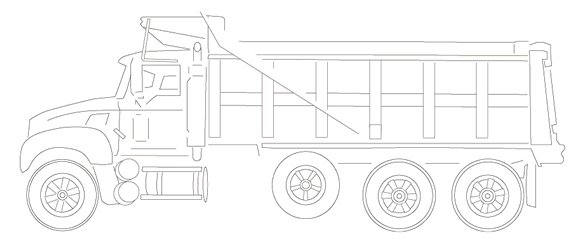 I'll be creating vector art for the Taxi picture also and it will include drawings of all the Ford Escapes. I plan to make one taxi drawing and clone it for the 9 spots on the trailer. This will space them out well and they'll be a consistent size. I found this side view on the NYC gov site
"Taxi of Tomorrow"
.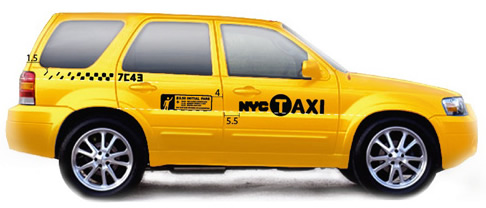 February 23th, 2012
I stitched together the photos of the taxi trailer. There's a total of 9 cabs.

October 14th, 2011
I was outside the studio in October of 2011 when a double trailer full of taxis drove up Jackson Street. They were probably bound for New York City but their lack of decals made it unclear. They were bright yellow Ford Escape "Clean Taxis" loaded onto a cobalt blue double trailer. I saw it from a block away and ran up the street to intercept it at a stop light. The NJ Transit light rail train stopped traffic long enough for me to snap a series of pictures spanning the full length of the truck.